We are pleased to announce that Scan –Bilt Pte Ltd has been awarded the prestigious Singapore SME 500 Award by the Association of Trade & Commence (Singapore) on 11th May 2021
This year the theme for the Singapore SME 500 Award 2021 is
"Business Resilience amidst COVID-19"
About Singapore SME 500 Award

The Singapore SME 500 Award was launched to recognize Singapore's leading Small-Medium Enterprises across major trade and industries that have contributed significantly to Singapore's GDP. Today, the SME 500 Award continues to recognize Singapore SMEs that have been developed and managed effectively, honoring leading businesses that have proven its success within the related business industries and sectors.
The SME 500 Award serves as a prestige recognition for the business and team players that have contributed greatly to each organization. Through nominations and recommendations of SMEs, the SME 500 Award committee assess and qualifies credible SMEs to be awarded the SME 500.
Widely known in the business scene, achieving the remarkable SME 500 Award is an endorsement towards the business's success and is certainly a significant milestone towards the business's position within the industry. The Award also serves as a yardstick where SMEs benchmark their business position and competitiveness against their competitors.
Today, SMEs that bears the iconic SME 500 trademark signifies strength, competitiveness, and leadership within the industry, allowing award winners to be recognized as a leader within the industry.
Recognizing only the most enterprising and privately held companies that have made significant contributions, the SME 500 Award is an award that businesses strive for continuous improvements to achieve on a year-to-year basis, spearheading each business's appetite for growth and success.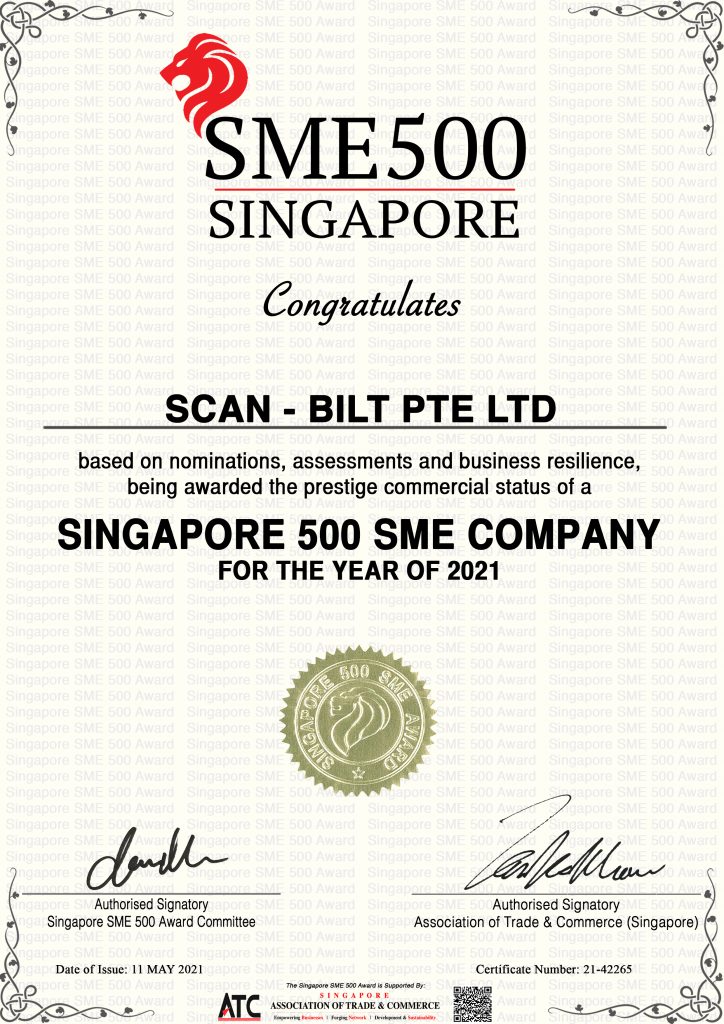 bizSAFE LEVEL STAR
ISO 9001:2015
ISO 45001:2018
ISO 14001:2015
BCA GREEN AND GRACIOUS AWARD
SINGAPORE BUSINESS FEDERATION
SINGAPORE CONTRACTORS ASSOCIATION LTD
ASSOCIATION OF PROCESS INDUSTRY (ASPRI)
SINGAPORE WELDING SOCIETY
SINGAPORE NATIONAL EMPLOYERS FEDERATION
PROFESSIONAL REGISTRATION
BCA – GRADE B1 REGISTERED CIVIL ENGINEERING CONTRACTOR
BCA – CLASS 1 BUILDER LICENCE
MOM APPROVED SCAFFOLD CONTRACTOR
SS EN 206 : 2014 CERTIFICATION  OF CONFORMITY (READY-MIXED CONCRETE CERTIFICATE)